Are you doing assessments for your end of the year report cards?  One of the areas that I want to assess is how well children can read, write, hear and transcribe melodic patterns using solfege.  I use solfege only for note reading in Grades 1-2-3, then transition to a combination of solfege and absolute pitches in Grades 4-5-6. 
It's magical when you can show a song to your students and they can sing it or play it at sight.  That's a skill that many adults don't have, and it requires some very high level thinking skills.  Musicplay is sequenced to teach the following solfege patterns:
K - prepare so-mi (Some K classes are ready to label so-mi, but that depends on the class.)
1 so-mi, la-so-mi and prepare so-do
2 mi-re-do, so-do
3 la-so-mi-re-do, low la, low so
4 fa, ti
5 scale
Just as when children learn to read, sequencing the skills and breaking them down into small steps will help more children to be successful readers.
I think (and this is just my own opinion) that you could compare the sequence of reading solfa patterns to the way that children learn to read.
Read and name the solfa notes = recognizing and naming the letters of the alphabet and 
knowing the sounds that each letter makes
Circle the melody pattern that you hear = seeing the word cat, hat, mat and circling correct
Read and sing the solfa pattern = sounding out the word c-a-t
Write the solfa notes on the staff =  writing C-A-T with help sounding out letters
Write the melody pattern that you hear = writing the word cat independently
Create and perform a new melody pattern = write the word in a sentence
If you agree with my sequence, then you'll want to assess each of these steps, informally in your classes to determine if children are ready to move to the next step.  And you may want to do some formal assessments of these skills for grades or portfolios.  Opportunities for all of these assessment of these skills are on www.muiscplayonline.com and we have print versions available for many for those who don't subscribe.
Solfa Note Challenge - use to Read and Name Solfa Notes: 
| | |
| --- | --- |
| | This was one of the first interactive solfa activities that we created for the online site.  In this activity, students drag the soccer balls  (the notes) to the net to show that they know which note is so and which note is mi.  Almost every reading song in Musicplay has a Solfa Challenge activity.  If you do not have Kodaly training and are unsure what the answers are, each challenge includes a play button and a singer sings the song in solfege, giving you the correct answers.  (Another great way to learn to read solfege yourself is to use the Note Highlight videos, part 2) |
Match the Melody Game - use to circle the pattern that you hear:
The Match the Melody Game is online at www.musicplayonline.com and is also a print product if you don't subscribe or if you want a print version.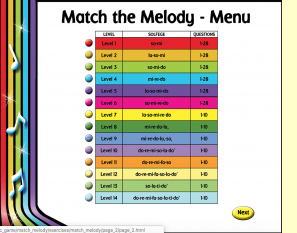 In Match the Melody, you choose the level you've been working on.
  There are 14 levels in the online game.
The Print version has been divided into Level 1 and Level 2.
Level 1 includes sm, ls m, smd, mrd and ls m d patterns.
Level 2 includes:  s mrd    ls mrd, 
mrd l,  mrd l,s,   drm sl d'   drmfs  drmfsl d' sltd'   t'drmfsltd'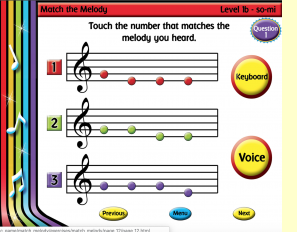 You can choose to have the melody sung in solfege (voice) or you can choose to have the melody played on a keyboard.

 

The keyboard version is great ear training in classes with teachers who don't use solfege.

 

If you're assessing the solfege, play the solfa pattern and have students choose the pattern that they heard.

 

We were careful in creating this activity to use the same rhythm pattern for each answer, so students are assessed on their melody reading ability - not solfa.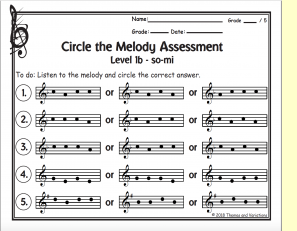 Additional printables and assessments are included in the print version - Match the Melody 1-2
 
This is a printable assessment of the Circle the Melody Assessment.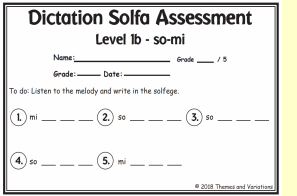 This is another additional printable included in the print version of Match the Melody.  The starting pitch is given, then students write the rest of the melody on the line.
 
If you're using the online game, give the students a piece of paper and pencil and have them number 1-5.  Then play the pattern that you want them to write down, and they write it using letters.  For example:  ss m ss m
 
Teaching music reading using solfege is more difficult than teaching children to read rhythms.  When teaching time is very limited, teachers may have to leave out this aspect of the music curriculum.  (And some teachers choose to teach letter names.) But the reward of having a 6 year old look at a simple so-mi song like, "Hey Hey Look at Me!" Or "Bye Lo Baby Oh" and be able to sing it at sight, is to me well worth the time I invest to teach solfege.


Quick Solfa Teaching Tips
This newsletter is about assessment, but you can't assess unless you've taught, and those who see their students once a week or less, need strategies if you want to teach this.
Start every class with a solfa activity.  The Solfa Practice section at www.musicplayonline.com has enough activities you could do a different one every class for the whole year.  Start with echo, then poison melody, then read flashcards, then read handsigns, then Listen and Sing, then Assess.  Five minutes every class, and your students will read solfa by year end.

If you don't start your class with solfa, use solfa flashcards as an exit-ticket activity.  That's where the printed cardstock flashcards are great.

When you teach a reading song, have the students read it!  I have them read rhythms first, then words in rhythm, then solfa pitches, then sing.

Use solfa and simple reading songs as a part of your music class - not the entire class!  Lois Choksy said that reading songs should comprise 1/3 of the repertoire in music classes.  They should be experiencing folk songs and other songs that use a wider range of pitches than just so-mi.

Remember that there are 3 ways to teach a song:  rote, reading, immersion.  If your students USE their solfa reading skills to learn new songs it will be more meaningful.
In Musicplay, some songs have a small staff on the upper-right hand side above the composers name.  This staff indicates the solfa pitches used (in K-3) and in Gr. 4-6 both the solfa pitches and the absolute note names are indicated.  These songs are the songs I use for teaching melody reading.  Sometimes they'll be in the sequence early to prepare the students.  Children should always experience sound before symbol.  So they should play many singing games and sing many songs in new tone-sets before they can read and write them.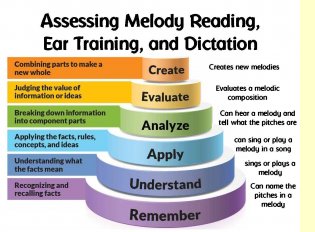 This graphic illustrates where I think that rhythm assessments fall on Blooms taxonomy.  Naming the rhythm as ta or ti-ti would be remembering.  Reading rhythms with a steady beat would fall into understanding/applying.  When you do rhythm dictation, this is even higher up the taxonomy - this is applying/evaluating.  When you have students create their own rhythm compositions, you're at the highest level.
Purchase our great set of Melody Flashcards
USA and International -
Melody Flashcards
Purchase the Print version of Match the Melody, with many printable assessments and projectables:
Match the Melody
Purchase our great set of Rhythm Flashcards
TeachersPayTeachers -
Rhythm Flashcards
Order Cardstock Flashcards – USA   
Purchase Which Rhythm Do You Hear?
Follow #musicplayonline on instagram, twitter, Pinterest