As the weather cools and the leaves change, you can't help but feel that fall has arrived.  Over the next few weeks we will feature some of our favorite fall activities (old and new) from Musicplay and Musicplay Online.  These fun lessons are sure to be a hit in your music classes over the next few weeks!
Five Fat Turkeys 
Song 25 from Musicplay Grade 1
Grade Level:
Kindergarten – Grade 2
Objectives:
Opportunity for solo singing.

 

I can sing a solo.
Vocal timbre.

 

I can tell who is singing because of how their voice sounds.
Perform on various non-pitched percussion.

 

I can play a non-pitched percussion instrument.
Materials Needed:
Purchase 10 or more feathers from a dollar store (can find in the craft section) or use this link to print your own paper feathers: 
Various non-pitched percussion instruments.
Projectables of lyrics from Musicplay Digital Resource or Musicplay Online Subscription (Optional)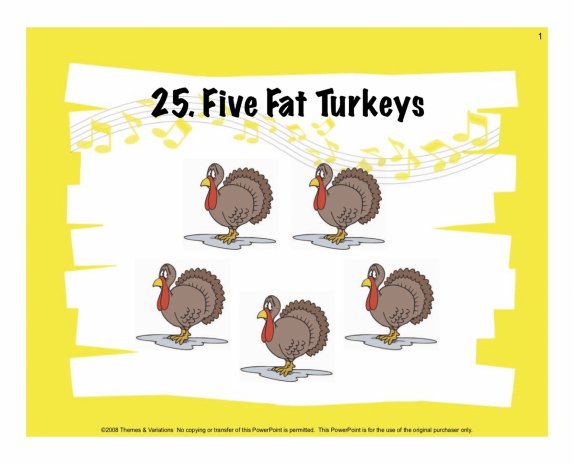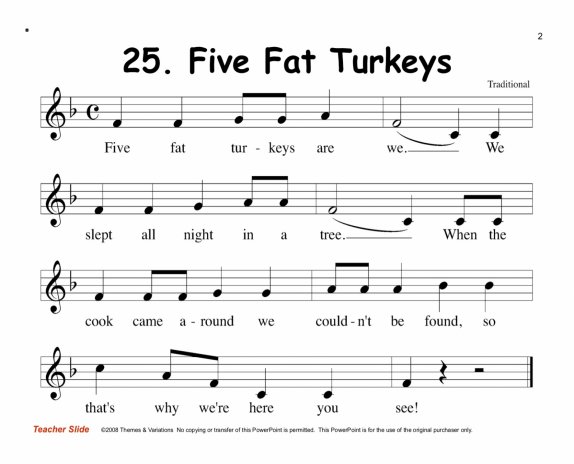 Process:
Teach the song by echoing phrase by phrase. 

These projectables are from the Concept Slides in the Musicplay Digital Resource PowerPoints.  They are also available to project from a subscription to www.musicplayonline.com.

Play the Game – Below are two ways to play:

Choose one child to be the cook. The cook goes out of the room and hides their eyes. The teacher gives five feathers to five children in the class. All the children hide their hands behind their backs. When the cook returns to the classroom, the cook tries to guess which children are the turkeys. Play again with a new cook. Keep track of which cook gets the most right. That cook is the winner.

An alternate way to play the game would be to have five guessers at the front of the room. Sing the song, then give five students feathers. When you give them a feather they sing "I am a turkey." The five guessers try to guess who was a turkey. Choose five new guessers and the game continues. This also gives you an opportunity to assess individual singing!
Extension:
Below is an extension activity for this song that was shared with us from one of the teachers from our Musicplay Teachers community: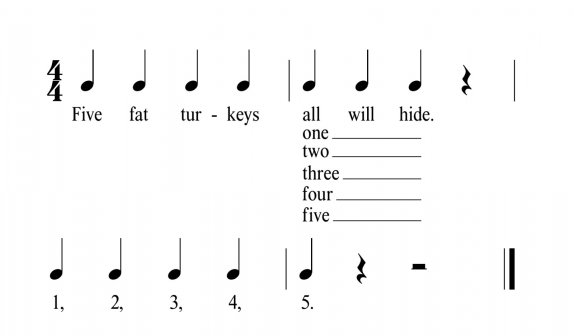 Teacher speaks the poem above and claps on the numbers 1, 2, 3, 4, 5.
Students join in with clapping on numbers 1, 2, 3, 4, 5. After, students try speaking the whole poem with the teacher and clapping on the numbers.
Speak poem again, and say "one will hide". When you clap the numbers, be silent on number one.  Try again and be silent on the other numbers 2, 3, 4, and 5.
Transfer this activity to your choice of non-pitched percussion instruments. Ask individual student to pick a number to "hide" when you play. 
For another challenge, try being silent on more than one number at a time.
Form:
B:
Say poem with non-pitched percussion instrument and select a number or numbers to "hide".
Repeat as needed!
Next week we will feature some activities to use with the song "Falling Leaves" from Musicplay PreK.