Music teachers are the ultimate event planners.  Who else can coordinate and organize 500 students, 50 teachers and school staff, and nearly 1000 parents for multiple shows. It's an extremely busy time for music teachers.  Below are some tips and a planning guide for getting through this exciting time of year!
Venue:
There are lots of things to consider when it comes to your performance venue:
Number of Students and Audience Members: Look into the fire code for your venue.  Are there any restrictions as to how many people can be in the space?  If so, you may need to re-group your students, have multiple concert nights, or only allow a certain number of people to come watch.
Stage/Risers/Lighting: Can the audience see the students?  This can sometimes be very challenging in a school gym, so a stage or risers may be needed.  Also, if no additional lighting is provided in your venue, you may need to rent/borrow/purchase additional lighting.
Sound System: Can the audience hear the students?  Does your venue have a good quality sound system or will you need to rent/borrow/purchase something different?  For our school concerts we use 2 microphones for the choir, and 2 for speaking roles/soloists.  Wireless microphones are great for avoiding additional cords and wires that can become a tripping hazard.
Pathways: How can students move smoothly onto the stage/risers as quickly and efficiently as possible? If setting up chairs, is there an aisle and pathways set up for easy movement for the audience?  Is there a place for audience members with limited mobility to view the performance?  Make sure all cords and wires are taped down to avoid a tripping hazard.
Clear Communication to Parents and Students:
Performer's Contracts: If you are doing auditions for speaking roles, start auditions in early November. Send home a performers contract to provide clear communication with the students and parents of your expectations.  Nothing is more frustrating than a student backing out last minute because they have something else happening that evening.  Below is an example of a performers contract. Click here to download the editable version of this contract.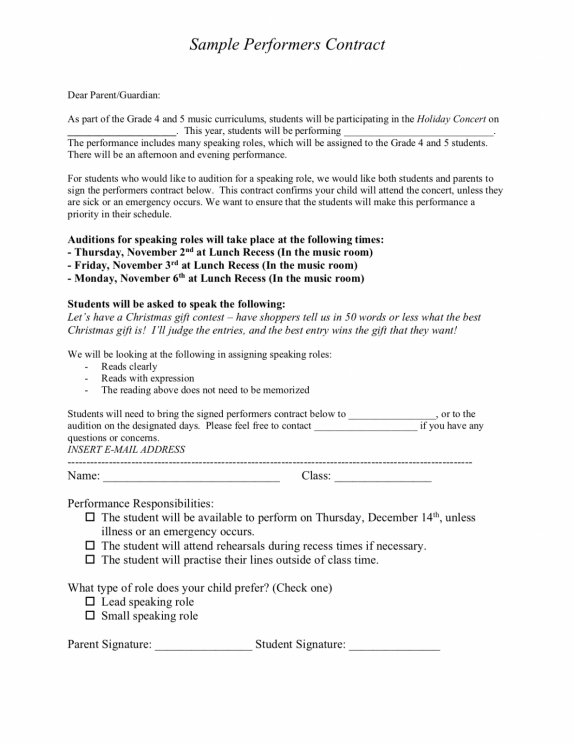 E-mail and Newsletter Reminders: Start in November reminding parents of the date of the concert in all outgoing e-mail and newsletters (or method your school uses for communication).
Tickets: Due to large numbers in some schools, you may need to restrict the number of people coming to the concert for each student. You can either use paper tickets, register your event on Eventbrite (free), or ask parents to fill out an online ticket request form on Google Forms. 
Clear Communication to Staff:
Staff Expectations: All staff should be expected to assist with the concert.  This is a SCHOOL EVENT.  Some areas where staff can assist include:

Publicity (e-mails, newsletters, posters)
Creating a backdrop and set
Costumes
Concert Program
Classroom Rehearsals – make a CD (or use Musicplay Online) to practice the songs in class. You can also make a video of yourself singing the song with actions. 
Setting Up the Concert (Stage, Risers, Props, Chairs, Backdrop, Sound System, Lighting)
Sound System and Lighting Tech
Runners (Person in charge of getting the next class ready backstage)
Stage Helpers (for moving props, instruments, transitioning students, holding open doors)
Supervision Backstage
Photos/Videotaping/Live-streaming
Prepare backstage emergency supplies (paper towel, Kleenex, garbage can, broom and dustpan).
Assist with entrances/exits/staging
Ticket Distribution/Collection
Clean-up
Rehearsal Schedule: The week of the concert can be an extremely busy time.  Take the time to send out a rehearsal schedule to staff a few weeks before the concert.  You will also need to clearly communicate if you will still be covering planning/prep time during this week.  Make sure this schedule is approved by your administrator before sending it out. 
Parent and Student Volunteers:
Parent Volunteers: Your parent community can be a HUGE help during concert season.  Many of the responsibilities listed above can also be done by a parent volunteer.  A great incentive for getting parent volunteers is giving them reserved or a choice of seats for the concert.  I have had some amazing parents over the years assist with costumes, props, backdrops, tickets, and more!
Student Volunteers: Some of your older and more responsible students can also be very helpful. Our school has a leadership group dedicated to assisting with concerts.  These students run the lighting and sound systems during the show.  They also work on clean-up, costumes, publicity, tickets, stagehands, runners and more!  It takes time to train these students in these jobs, so additional support from your administrator is needed to make this all work. 
Checklist:
Below is a checklist to help keep track of everything involved in putting together a holiday concert.  This document is a work in progress so feel free to download, edit, and make it work for you and your school!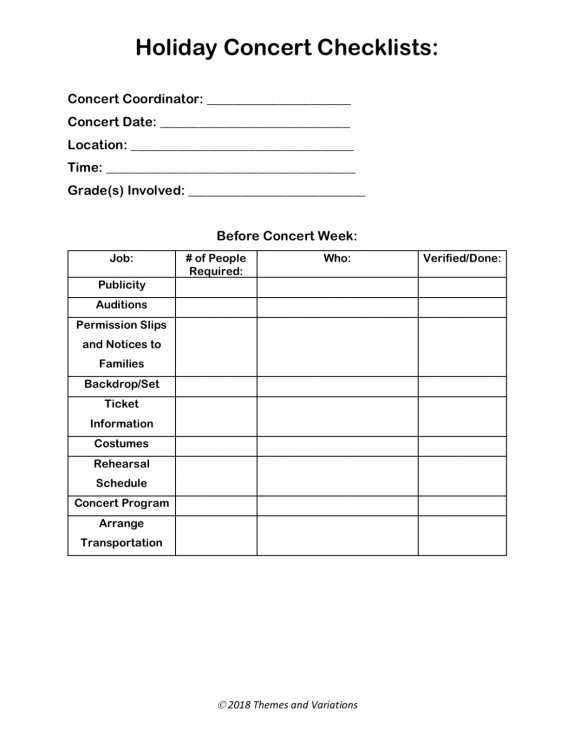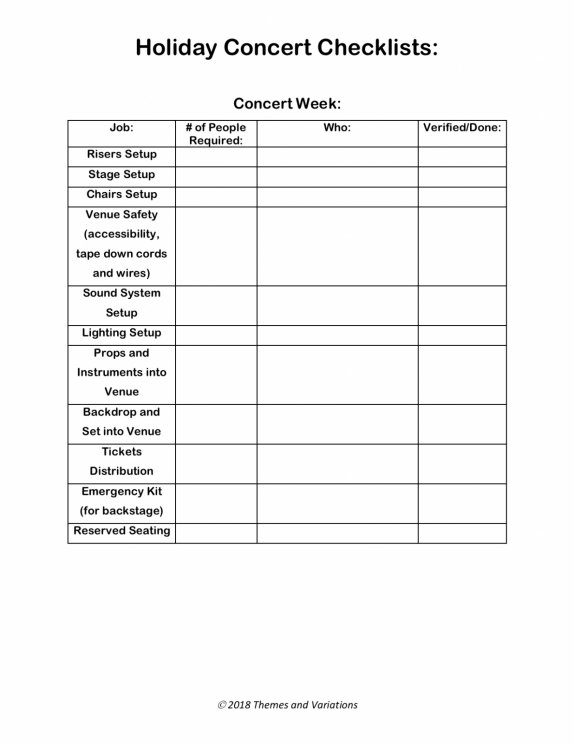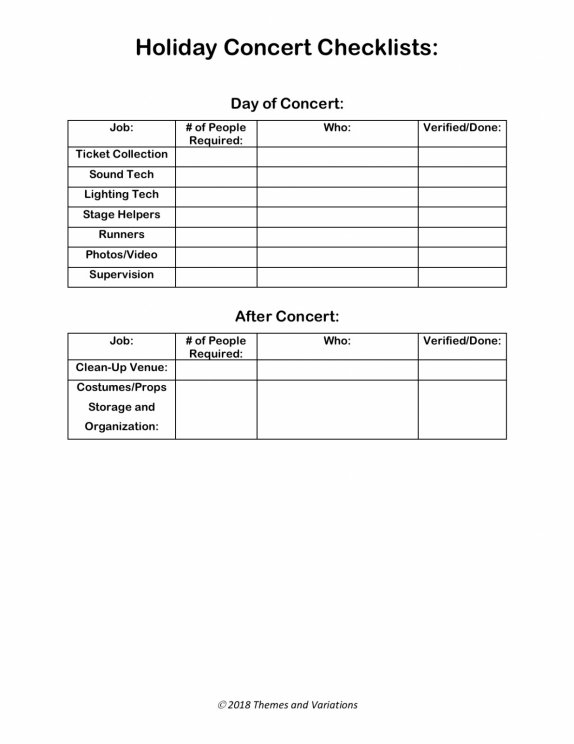 Remember – it is still not too late to put together a holiday concert.  Check out the link below to view all the holiday materials available from Themes and Variations to get started on your concert planning!